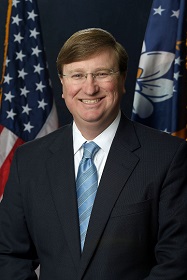 Tate Reeves
Governor
Welcome to the Mississippi Department of Finance and Administration's new and improved website!
The Mississippi Department of Finance Administration (DFA) plays a critical role in my administration's mission to implement a more efficient and effective government for all Mississippians. From ensuring State employees receive their pay to maintaining the State's historic buildings, DFA is vital to helping us continue putting Mississippians first.
Through this website, you have a wealth of information at your fingertips.
If you're a business owner, you can find information on how to do business with the State of Mississippi. If you're a state employee, you can find information about health insurance benefits. If you're a resident interested in transparency, you can access information to see how your government is working for you.
I encourage you to explore the new website to learn what DFA can do for you.
Governor Tate Reeves
INFORMATION AND RESOURCES
Coronavirus Aid, Relief, and Economic Security Act Funds may be requested by clicking the link below
American Rescue Plan Local Fiscal Recovery Funds may be requested by clicking the link below