MS OUTDOOR STEWARDSHIP TRUST FUND APPLICATION FOR GRANT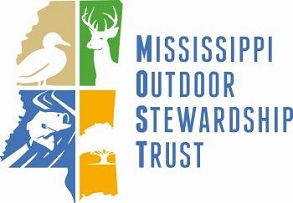 Notice to Applicants
The Mississippi Outdoor Stewardship Act (House Bill 606, 2022 Regular Session) was passed to establish a funding mechanism to encourage investment in outdoor recreation and conservation projects to state agencies with responsibilities therefor, and to expand the availability of these projects to counties, municipalities and nongovernmental entities, as defined by the Act.
The Act established the Outdoor Stewardship Trust Fund, from which the Board of Trustees may disburse monies to qualifying counties, municipalities, state agencies and nongovernmental entities. Monies from the Fund may only be used and expended for the following:
Improvement of state park outdoor recreation features and trails;
Acquisition and improvement of parks and trails by counties and municipalities, if such parks and trails lie within the jurisdiction of such counties and municipalities;
Restoration or enhancement projects to create or improve access to public waters and lands for public outdoor recreation, conservation education, or the safe use and enjoyment of permanently protected conservation land;
Restoration or enhancement on privately owned working agricultural lands and forests that support conservation of soil, water, habitat of fish and wildlife resources;
Restoration or enhancement of wetlands, native forests, native grasslands and other unique habitats important for Mississippi's fish and wildlife; and
Acquisition of critical areas for the provision or protection of clean water, wildlife, hunting, fishing, military installation buffering or natural resource-based outdoor recreation.
Real property may only be acquired when the property is, at the time of acquisition, being leased by the state as a wildlife management area; adjoins or is in close proximity to state or federal wildlife management areas or state parks, or would provide better public access to such areas; is identified in a wildlife action plan developed by a state agency; constitutes riparian lands, and its acquisition is for the purpose of protecting any drinking water supply; or surrounds a military base or military installation.
Unless trust funds are paid in reimbursement of project expenditure(s) approved retrospectively by the Board, a county, municipality, state agency or nongovernmental entity receiving trust funds for a project pursuant to the Act must expend the funds within two (2) years of receipt. If a county, municipality, state agency or nongovernmental entity receiving funds does not expend the funds within two (2) years after receipt, the receiving entity must provide an accounting of the unused funds and reason(s) for failure to expend the funds. If the Board determines the project will not be completed in a timely manner, the county, municipality, state agency or nongovernmental entity may be required to return the unexpended funds. If you need assistance please contact most@dfa.ms.gov
Notice: As mentioned in House Bill 606, Outdoor Stewardship Trust funding is NOT applicable for land acquisitions until July 1, 2024.
Grant Application
The 1st Round Application Period has ended. Stay tuned for announcements regarding the 2nd Round Application period.
A user account is required to fill out and save the progress of this form.
Please create an account or login to start or continue your application.
NOTE: You MUST complete a MOST form submission before starting a new application.
Other Information
Meeting Agenda (Monday, March 6, 2023 1:00 p.m. Woolfolk Building, 14th Floor)