MS OUTDOOR STEWARDSHIP TRUST FUND APPLICATION FOR GRANT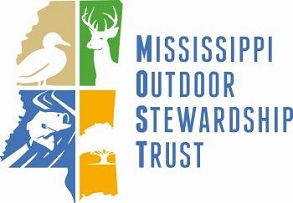 Notice to Applicants
The Mississippi Outdoor Stewardship Act (House Bill 606, 2022 Regular Session) was passed to establish a funding mechanism to encourage investment in outdoor recreation and conservation projects to state agencies with responsibilities therefor, and to expand the availability of these projects to counties, municipalities and nongovernmental entities, as defined by the Act.
The Act established the Outdoor Stewardship Trust Fund, from which the Board of Trustees may disburse monies to qualifying counties, municipalities, state agencies and nongovernmental entities. Monies from the Fund may only be used and expended for the following:
Improvement of state park outdoor recreation features and trails;
Acquisition and improvement of parks and trails by counties and municipalities, if such parks and trails lie within the jurisdiction of such counties and municipalities;
Restoration or enhancement projects to create or improve access to public waters and lands for public outdoor recreation, conservation education, or the safe use and enjoyment of permanently protected conservation land;
Restoration or enhancement on privately owned working agricultural lands and forests that support conservation of soil, water, habitat of fish and wildlife resources;
Restoration or enhancement of wetlands, native forests, native grasslands and other unique habitats important for Mississippi's fish and wildlife; and
Acquisition of critical areas for the provision or protection of clean water, wildlife, hunting, fishing, military installation buffering or natural resource-based outdoor recreation.
Real property may only be acquired when the property is, at the time of acquisition, being leased by the state as a wildlife management area; adjoins or is in close proximity to state or federal wildlife management areas or state parks, or would provide better public access to such areas; is identified in a wildlife action plan developed by a state agency; constitutes riparian lands, and its acquisition is for the purpose of protecting any drinking water supply; or surrounds a military base or military installation.
Unless trust funds are paid in reimbursement of project expenditure(s) approved retrospectively by the Board, a county, municipality, state agency or nongovernmental entity receiving trust funds for a project pursuant to the Act must expend the funds within two (2) years of receipt. If a county, municipality, state agency or nongovernmental entity receiving funds does not expend the funds within two (2) years after receipt, the receiving entity must provide an accounting of the unused funds and reason(s) for failure to expend the funds. If the Board determines the project will not be completed in a timely manner, the county, municipality, state agency or nongovernmental entity may be required to return the unexpended funds. If you need assistance please contact mostf@dfa.ms.gov
Notice: As mentioned in House Bill 606, Outdoor Stewardship Trust funding is NOT applicable for land acquisitions until July 1, 2024.
Grant Application
The next MOSTF application acceptance period is set for October 1 - October 31, 2023. Applications will only be accepted via online electronic submission via this website.
Amendments and improvements are being made to the application currently. It will be made available here at the earliest convenience and in advance of the application acceptance period.
All potential applicant project managers should review the Application Scoring Criteria.
MOSTF News
August 3, 2023 - The next MOSTF Application Acceptance Period was set for October 1 - October 31, 2023, and the amended Application Scoring Criteria was approved following the meeting of the MOSTF Board of Trustees on August 2, 2023.
July 26, 2023 - The next MOSTF Board of Trustees Meeting is scheduled for August 2, at 10:00 am in the 14th Floor Conference Room in the Woolfolk State Building located at 501 N. West Street, Jackson, MS 39211. A live-stream view is offered here: Mississippi Outdoor Stewardship
June 14, 2023 - Press Release: MOSTF Board approves 21 grant projects statewide.
May 12, 2023 - The next MOSTF Board of Trusteed Meeting is scheduled for May 23, at 1:00 pm in room 117 in the Woolfolk State Building located at 501 N. West Street, Jackson, MS 39211.
April 17, 2023 - The MOSTF Board is in the preliminary process of ranking, reviewing, and selecting approved project proposal applications for funding. This is an ongoing process. Applicants will be notified as soon as approvals have been finalized.
March 31, 2023 - We are most appreciative of the support of the 2023 Mississippi Legislature who appropriated an additional $15M to the Mississippi Outdoor Stewardship Trust Fund. Those funds will become effective July 1, 2023. Stay tuned for an announcement regarding the next opportunity to submit applications after July/August 2023.
A user account is required to fill out and save the progress of this form.
Please create an account or login to start or continue your application.
NOTE: You MUST complete a MOSTF form submission before starting a new application.
Applicant Instructions: The next round of MOSTF Applications will be accepted from October 1 through October 31, 2023. Interested applicants should review the information above in Notice to Applicants. If your project proposal meets the criteria of the Outdoor Stewardship Trust Fund requirements, you may click on Apply Online and register for an account to begin drafting on your application. Your application will be saved as a draft and cannot be submitted until October 1, 2023.
Other Information